Chol Hamoed Pesach 2023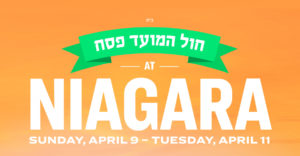 Hotel
Chabad's cut off for hotel bookings has passed for Pesach 2023. However there are still many rooms at great rates. Pls contact the hotels directly for any new bookings.
Minyan
Chabad is hosting Minyan throughout Chol Hamoed.
Shachris 7:00AM & 8:30AM
Mincha 7:40PM
Maariv 8:00PM & 8:40PM
Location: 6417 Main Street, Niagara Falls On, CANADA
Waterpark
Chabad Niagara will have all attractions available throughout Chol Hamoed at discounted rates. Just stop by and purchase your tickets; no need to order in advance.
Americana Indoor Waterpark will have separate hours exclusively for our community on Sunday, April 9.
9:15-10:15pm Girls
10:30-11:30pm Boys.
$20 USD (door price upon availability $30)

Food
Breakfast & Dinner (Sunday Dinner & Monday Breakfast) will be available at Niagara kosher with advance order.
Breakfast $15 – Eggs of your choice, sliced veggies, Jam, Coffee.
Served between 9:00 – 10:30 AM
Dinner $37.50 – Grilled chicken thigh (or baked Salmon) with grilled veggies and fresh cut French fries. Fruit salad Desert. Soft drinks. Steak Dinner $60
Dinner times 6:15 or 7:30 PM
All rates are in USD + tax/fees
No Matzah will be served at any of the meals.

CANADA BORDER IS OPEN
The Canadian border is FULLY open TO ALL. (No vaccinations, PCR or antigen testing required).