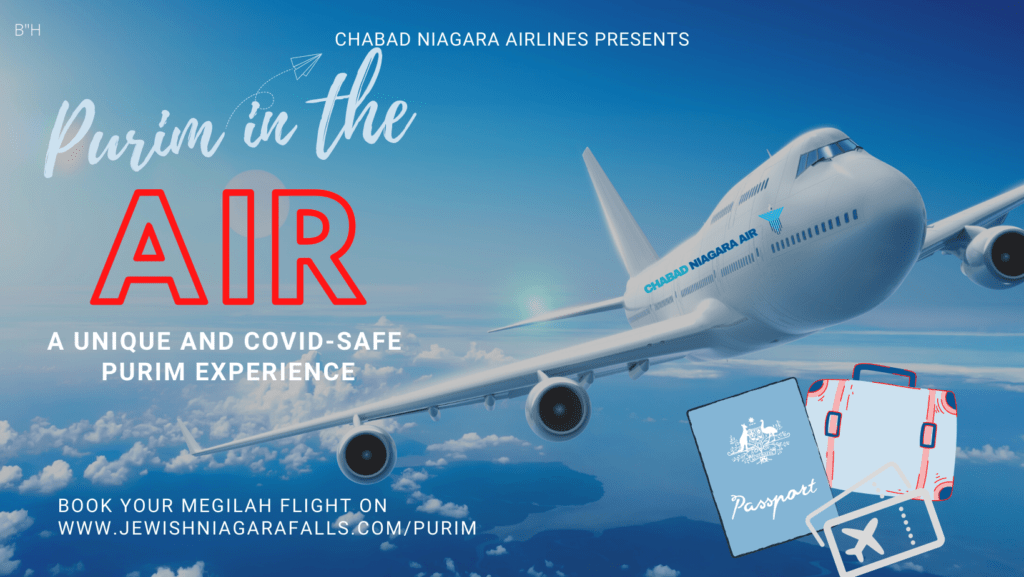 Book your Megilah flight and enjoy 30 min of inflight entertainment with Rabbi Zalman and Perla and their little co-pilots
You can choose from one of the following options:
OPTION ONE: JETLINER
Chartered Flight (10 passengers max per flight)
Departure: Chabad Niagara Airport
6417 Main St, Niagara Falls

OPTION TWO: PRIVATE JETLINER
Private Jet (you or your family)
Departure: Location of your choice (home or office)

Flight duration: 30 min
Boarding: 15 min before your departure time
Enhanced safety screening:
For the safety of all our passengers and crew, we'll ask health questions required by Transport Canada, take your temperature without contact and ensure that you have your own mask to wear on your flight.
Complimentary:
Complimentary beverages and Kosher meals (to-go) for all our passengers
To schedule your flight time choose below
One does not fulfill the Mitzvah of Megillah via Zoom. If you cannot attend a Megillah reading in person, you should read the Megillah to yourself. Click here to read the text.