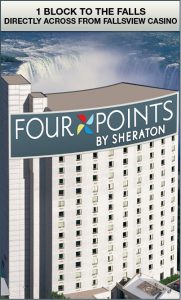 The Four Points Sheraton is our official Niagara Falls Partner Hotel, with Chabad Niagara's Jewish Tourist Centre just a few seconds' walk from the hotel.
Overlooking Niagara Falls and just minutes from major Niagara Falls Attractions, this four-diamond hotel features Fallsview guest rooms and luxurious Whirlpool & Jacuzzi rooms. A complete fitness center and an indoor swimming pool with a waterfall are just some of the amenities offered.
Note: This is the only hotel in Niagara Falls, Canada with an Eiruv set up between the hotel and the Jewish Tourist Centre (which allows carrying in the public domain on Shabbat). Thus, we recommend that visitors stay at the Four Points Sheraton, where Shabbat keys are also available. To reserve your meals during Shabbat, visit our reservation page.
Hotel reservations must be booked directly through the hotel – Mention 'CHABAD' while booking to receive a 5% discount.
Address: 6455 Fallsview Blvd, Niagara Falls, ON L2G 3V9, Canada